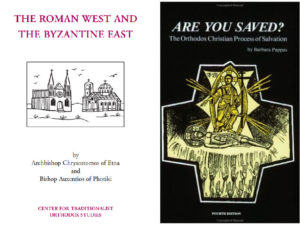 St. Andrew's fall book study will look at two questions of interest to all Christians, regardless of where they worship or what they believe.
How did the Church develop differently in organization and faith in the East and the West?
How do the faithful attain salvation?
Our study will begin on October 5th and continue for the next five Wednesdays.  In that time, we'll cover two short (less than 75 pages) books.   First, we'll look at "The Roman West and the Byzantine East" by Archbishop Chrysostomos of Etna and Bishop Auxentios of Photiki. This book is only about 60 pages, and is a solid introduction to the differences in Church History and Theology between the west and the east. During the second half of the study, we'll look at a wonderful little book I've recently read called "Are You Saved?: The Orthodox Christian Process of Salvation" by Barbara Pappas.   This books looks at the historical teaching of the Church on salvation in a concise but substantive way.  All participants will receive a free copy of the books.
Each Wednesday we will meet at 7 p.m. for Vespers (evening prayer).  The book study will start around 7:30 p.m.  A light meal will be provided.
Please register in advance so we can order the books.