As a small parish, we are committed to stretching every dollar to better bring the Gospel of Christ to our community.  Often people ask how they can help or what items specifically would benefit the completion of our worship space.  Our needs change from time to time, but this Wish List can be a starting point for anyone who would like to help us improve our worship area.  While these items will add to the beauty and utility of our worship area, your most generous donation will always be your prayers for this humble mission!
Clergy Stools (3-4 needed) – $265 each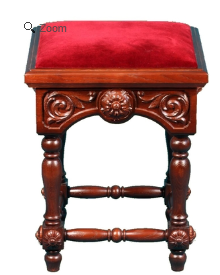 These stools are placed in the apse in the sanctuary.  They provide a place for serving clergy to sit during longer services or before the start of Liturgy and they are compact enough to leave room for the servers to maneuver around the Holy Table.  They may be ordered from Istok.  Clergy Stool-3
Processional Fans/Cross – $650
The Exapteriga sets Liturgical fan Sets are hand made with a representation of a six-winged Seraphim, the highest order of angel, mounted on a pole or staff for hand carrying.
The seraphim, according to Isaiah's vision of God, surround the throne of God in Heaven. The image of the seraphim is often engraved on a circular, usually metal, disk on the end of the staff.
Two fans are found in most Orthodox churches placed on either side of the tabernacle when not in the hands of servers. The fans are reminders that these same angels surround the throne of God on earth — the Holy Altar.
During the Divine Liturgy the exapteriga are used to accompany the Holy
If you would like to donate any of these items or other liturgical items, please visit with Fr. Irineos to be sure that the items are still currently needed and so that we may adjust our "Wish List" to reflect your generous donation.