Bishop Irineos, Rector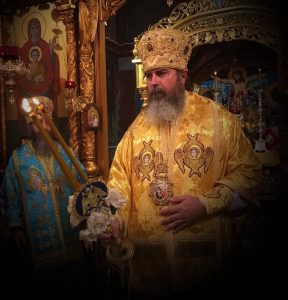 Bp. Irineos was assigned to Holy Annunciation Orthodox Mission by His Beatitude Metropolitan Angelos in 2015. Fr. Irineos was ordained to the priesthood in 2015 on the Feast of St. Nektarios at the synodal cathedral in Avlona, Greece.  Before his ordination, Fr. Irineos was a student at Holy Three Hierarchs Orthodox Theological Institute.  As a layman he was a part of a mission startup for the OCA, served on the OCA diocesan council, and filled many roles in the mission, from reading to serving in the altar, to acting as warden.  In November 2017, Fr. Irineos was consecrated as a vicar bishop to Metropolitan Angelos, responsible for the mission to North America.  On the eve of the Synaxis of the Holy Archangels in 2021, he was elevated to the rank of Archbishop.
Fr. Elias Greer, Parish Priest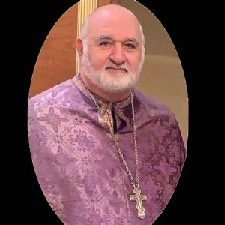 Rev. Fr. Elias Greer (Grivakos), came from Greece with his family as a child.  He was commissioned a Second Lieutenant in the U.S. Air Force upon college graduation. Serving his obligation in the Air Force as a pilot, he was honorably discharged at the rank of Captain. He returned to Texas where he owned and operated restaurants in Dallas and San Angelo respectively while pursuing his studies as a lay theologian. Almost 20 years later, he attended seminary at Holy Cross Greek Orthodox School of Theology in Boston, Massachusetts, and was awarded a Masters of Theology with honors in May 1994. Fr. Elias was ordained to the Holy Priesthood on March 3, 1995. In 2014, he was awarded the degree of Protopresbyter. Additionally shortly after being ordained to the priesthood, Fr. Elias began "Grivakos Jewelry/Heavenly Creations". Today as Bench Jeweler, Fr. Elias does custom designs for private individuals worldwide as well as designs and casting for local jewelers. Fr. Elias is attached to the Holy Annunciation Orthodox Church in Liberty Hill, Texas while overseeing plans for St. Athanasios the Great Orthodox Mission in San Angelo, Texas. He is fluent in Greek and with Byzantine music.
Sbdcn. Gerasimos Floyd
Memory Eternal! Fr. Symeon Parsons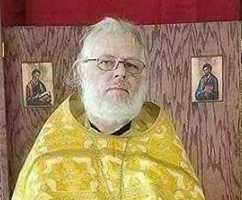 Fr. Symeon Parsons was ordained as a True Orthodox priest by Bp. Haralampos of Dallas. Prior to joining the Avlona Synod he was the rector of St. Nicholas Orthodox Church in Austin, Texas. Fr. Symeon reposed in 2020. Memory Eternal, dear Father!