Metropolitan Angelos
Holy Annunciation Orthodox Mission is a startup mission parish, initially sanctioned by Metropolitan Chrysostomos of Ecuador.   Because there is no locum tenens for North America, our parish is overseen directly by Metropolitan Angelos of Avlona, President of the Holy Synod.
Bishop Irineos, Rector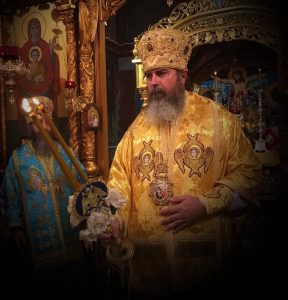 His Beatitude Metropolitan Angelos has assigned Bp. Irineos to Holy Annunciation Orthodox Mission. Fr. Irineos was ordained to the priesthood in 2015 on the Feast of St. Nektarios at the synodal cathedral in Avlona, Greece.  Before his ordination, Fr. Irineos was a student at Holy Three Hierarchs Orthodox Theological Institute.  As a layman he was a part of a mission startup for the OCA, served on the OCA diocesan council, and filled many roles in the mission, from reading to serving in the altar, to acting as warden.  In November 2017, Fr. Irineos was consecrated as a vicar bishop to Metropolitan Angelos, responsible for the mission to North America.
Fr. Symeon Parsons, Attached
Rdr. Gerasimos Floyd