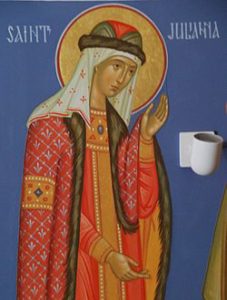 The St. Juliana Ministry to the homeless is a monthly outreach ministry in which food, clothing and other necessities are distributed to the homeless in the Austin area. We also remain "on call" for local needs in the Liberty Hill-Bertram area. The people served by this ministry are also remembered in our prayers.
The ministry is under the protection of St. Juliana the Merciful, whose life was a model of service to others. She was known for nursing the sick, sewing clothes for the poor and feeding the hungry. She often would endure hunger and necessity herself to give to others.
Righteous St. Juliana, pray to God for us!