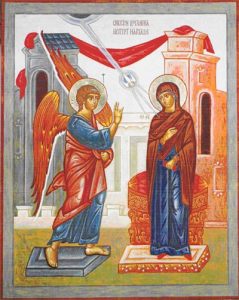 At the direction of Metropolitan Angelos of Avlona, and in recognition of our new purpose built worship space, St. Andrew Orthodox Church has been renamed as Holy Annunciation Orthodox Church.  Our Patronal Feast will be on March 25 (OS) and the temple is dedicated to the most Holy Theotokos.
We give thanks to the intercessions of St. Andrew the First-Called Apostles for our growth in this community and place our hope in the Theotokos, that through her prayers we may preach the Gospel of her Son, Christ our True God, the Savior of our souls!
Our first service as Holy Annunciation Orthodox Church will be held on June 3, 2018.