Repose of Fr. Symeon Parsons
Eugene William Parsons/ Fr. Symeon, 59, died on Saturday, August 23,2020.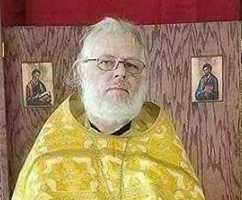 Born October 24, 1960 in Norwalk, CT to Ltc. Thomas E. Parsons and Roberta G. Parsons, Fr. Symeon lived a life defined by his service to God and all mankind. He never met anyone he didn't like.
Eugene earned the rank of Eagle Scout in the Boy Scouts. He was born and raised in the Roman Catholic faith. He had an interest in all religions. After many years of prayer, he decided to devote his faith to the Russian Orthodox Church and became a priest. He loved trains, radios and antique books. Fr. Symeon and his wife Donna, in September 2014 started a Food Bank and spent every other Monday they were ministering to those in need. They had a love for all animals. They always adopted elderly dogs. In 2018, they adopted a bloodhound. A dream developed of starting a bloodhound rescue.
He is survived by his wife, of 19 years, Donna Michelle Ross-Parsons of Pflugerville, Texas; his mother, Roberta Parsons of Greenville, North Carolina; his sister Bonnie and her husband Dave Pulver of Ayden, North Carolina; and his brother Tom and his wife Michele Parsons of Rutherfordton, North Carolina.
A visitation was be held on Friday, August 28th, starting at 6:00 pm, at the chapel at Beck Funeral Home at 4765 Priem Lane in Pflugerville, Texas. On Saturday, August 29 at 10:00 am, Bp. Irineos served the Funeral Service for priest, assisted by Fr. Elias and Subdcn. Gerasimos at the Holy Annunciation Orthodox Church at 5205 County Rd 236 in Liberty Hill, Texas. The service was followed by the Trisagion Service at the grave at Liberty Hill Cemetery. The 40th day service was also served graveside.
In lieu of flowers, donations can be made to the Holy Annunciation Orthodox Church or the South Central Bloodhounds at southcentralbloodhounds.org.